Posts for: December, 2017
By Bill Johnson, DMD
December 23, 2017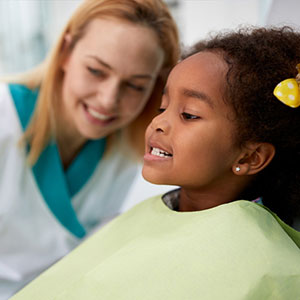 When does dental care begin for a child? In the truest sense, before they're born. Although the first teeth won't erupt until months after birth, they're already forming in the baby's jaw while still in the womb.
During the prenatal period a baby's dental health depends on the mother's health and diet, especially consuming foods rich in calcium and other minerals and nutrients. Once the baby is born, the next dental milestone is the first appearance of primary teeth in the mouth. That's when you can begin brushing with just a smear of toothpaste on a toothbrush.
Perhaps, though, the most important step occurs around their first birthday. This is the recommended time for you to bring them to visit our office for the first time.
By then, many of their primary teeth have already come in. Even though they'll eventually lose these to make way for their permanent set, it's still important to take care of them. A primary tooth lost prematurely could cause the permanent tooth to come in improperly. Saving it by preventing and treating tooth decay with fluoride applications and sealants, fillings or even a modified root canal treatment could stop a bad bite and costly orthodontic treatment down the road.
Regular trips to the dentist benefit you as a caregiver as much as they do your child. We're your best source for information about dental health and development, including concerns like teething and thumb sucking. We'll also keep you informed on your child's growth process as their teeth, jaws and facial structure develop.
Beginning regular dental visits at age one will also help make your child comfortable with seeing the dentist, more readily than if you wait until they're older. It's an unfortunate fact that many people don't seek out the clinical dental care they need because of anxiety over visiting the dentist. Starting early, not only will your child be getting the best in dental care, they'll be developing a habit that can continue to benefit their oral health the rest of their lives.
If you would like more information on your child's dental care, please contact us or schedule an appointment for a consultation. You can also learn more about this topic by reading the Dear Doctor magazine article "Age One Dental Visit."
By Bill Johnson, DMD
December 08, 2017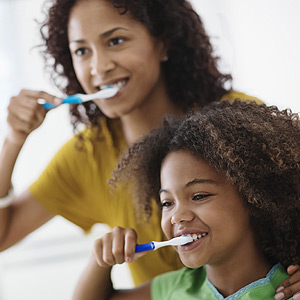 Long-term dental health is built on a foundation of good hygiene habits instilled at an early age. Consistent, daily hygiene not only makes for healthy teeth and gums but an attractive smile too.
Here are 4 tips for encouraging your child to develop effective oral hygiene habits.
Begin teaching them to brush and floss on their own around age 6. Brushing and flossing are the primary ways to remove bacterial plaque from teeth, the main cause for dental disease. You should begin brushing your child's teeth when they first appear; around age 6 you can begin encouraging them to brush for themselves and learn to floss.
Promote healthy eating and snacking habits. A nutritious diet is also important for maintaining healthy teeth and gums. Make sure your child is eating a varied, balanced diet of whole foods in appropriate portions. You should limit sugar and other carbohydrates (which accelerate growth of decay-causing bacteria) to mealtimes; offer limited, non-sugary snacks between meals.
Warn older children and teens about practices that are unhealthy for the mouth. As children enter their teen years, they're under increased pressure from peers to try unhealthy practices. Oral piercings like tongue and lip bolts can increase tooth damage — chipping and wear — and gum recession, infection and bone loss. Tobacco use, both smoke and smokeless, can also cause tooth staining, increase the risk of decay, gum disease and oral cancer. Begin stressing the dangers these practices pose to their general and oral health before they reach puberty.
Practice what you teach. Â Modeling healthy behavior you want your child to learn is just as important as instructing them how to do it. When they're very young, brushing teeth should be a family affair — allow them to see how you brush your teeth as you help them brush theirs. And, if you're not sure if your hygiene techniques are worthy of emulation, we'll be glad to help you improve your effectiveness to pass on to the next generation.
If you would like more information on developing life-long dental habits with your child, please contact us or schedule an appointment for a consultation. You can also learn more about this topic by reading the Dear Doctor magazine article "How to Help Your Child Develop the Best Habits for Oral Health."