Posts for: January, 2015
By Bill Johnson, DMD
January 30, 2015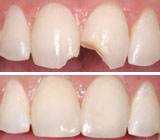 Imagine this: your active, adventurous child — or adolescent — loves high-risk contact sports like hockey or football, and while playing breaks a front tooth. After an emergency trip to our office, we recommend bonding as a good choice for this repair.
"What is bonding?" you ask. Here's what you need to know. In a bonding procedure, a composite resin restoration material is attached (bonded) to the broken tooth, and it looks as good as new.
Composite resin restorations are tooth-colored filling materials composed of a special plastic-based matrix for strength, with glass filler for aesthetics and translucence. The combination looks just like a natural tooth. The composite resin material is physically bonded to the remaining healthy tooth structure. First the natural tooth enamel or dentin must be etched so that the composite resin can attach and actually join to the tooth. In the end it will function as one and look exactly like a tooth.
Composites can be placed directly on the teeth in our office, quite easily, and they are relatively inexpensive. They look natural and can be matched to your child's natural tooth. They require little to no tooth reduction. Bonded composite resin restorations are the best choice for children and teenagers because their teeth and jaws are still growing and developing. What's more, they are still active in their sports and could need further restorations.
Composite resin restorations may need to be replaced with more permanent restorations after your child is fully grown. The bonded resin restorations may wear over time, and may stain and dull somewhat with age. When your child has completed growth, more permanent restorations such as porcelain veneers or crowns may be necessary.
By the way, a custom-made mouthguard might have prevented injury in the first place and certainly should be considered in the future.
If your child has chipped or damaged a tooth, contact us today to schedule an appointment or to discuss your questions about bonding and a protective mouthguard. You can also learn more by reading the Dear Doctor magazine article "Repairing Chipped Teeth."
By Bill Johnson, DMD
January 15, 2015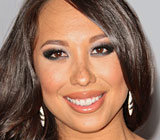 If you've ever watched Dancing with the Stars on television, you've no doubt noticed the vivacious and talented Cheryl Burke, whose ballroom dance moves are as captivating as her bright smile. In fact, Cheryl considers her smile to be one of her most important assets as a professional dancer.
"As a performer, you're basically smiling the whole time," Cheryl told Dear Doctor magazine recently in an exclusive interview. "It's just really important to take care of your teeth and have a great smile."
Cheryl is very conscientious about caring for her smile, but that wasn't always the case. In the Dear Doctor interview, Cheryl revealed that her teeth suffered from ineffective oral hygiene when she was younger. "I definitely had my share of cavities," Cheryl recalled, adding that she believed this was her own fault. "I didn't use floss," She explained. "I think when you do floss frequently, it helps to reduce the chances of getting cavities. It took me a while to figure it out."
Once Cheryl did figure it out, she was able to make cavities a thing of the past. But in order to make sure the effects of her prior tooth decay did not mar her lovely smile, she made sure her dentist — who is also her stepdad! — gave her tooth-colored fillings that could not be distinguished from the surface of a natural tooth. "It's important for me," Cheryl said.
Lots of dental patients feel the same way, even if they don't spend time in front of television cameras. That's why the dental profession has developed tooth-like materials such as composite resins and porcelains that mimic natural tooth material exactly. These materials are also suitable for children's teeth and can incorporate fluoride to reduce tooth decay. It's even possible to replace old silver-colored fillings with these newer dental materials.
If you would like to learn more about tooth-colored fillings, please contact us to schedule an appointment for a consultation. To read Dear Doctor's entire interview with Cheryl Burke, please see "Cheryl Burke." Dear Doctor also has more on "The Natural Beauty of Tooth-Colored Fillings."