Posts for: December, 2014
By Bill Johnson, DMD
December 16, 2014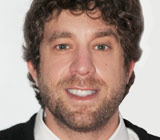 One day, while looking at old pictures of himself, 34-year-old American Idol finalist Elliott Yamin noticed something peculiar. "I [had] figured out how to kind of smile without displaying all my teeth," he told an interviewer with People magazine. The reason: Yamin (like many other people) was unhappy with the way his teeth looked. And others noticed it too: "[They] wrote things in magazines, called me Snaggletooth and things like that," he said.
Yamin's situation came to the attention of dentists from across the country, several of whom offered to fix his crossbite and other problems. One of them even provided the singer with computer-generated renderings of how he'd look after a total "smile makeover" — and that was enough to convince him. Finally, after receiving a set of porcelain veneers and other dental work — all provided free of charge by the concerned dentist — Yamin has the smile he always dreamed of.
You don't have to be an American Idol finalist to appreciate the benefit of having a super smile — and it's never too late to get started! As Yamin found out, a "smile analysis" is the first step, and it's a critical part of the process. This is the time when you and your dentist get to know each other, and begin talking about what kind of a look you want to achieve, and what you should realistically expect.
But it can be tough to express in words exactly what your idea of a perfect smile looks like. Are the teeth completely regular in alignment and "Hollywood white?" A little bit asymmetrical and more natural-looking — or something in between? And exactly how would that look on you? Fortunately, we have a variety of ways to help you make those decisions.
One is computer-generated images, like the ones that persuaded Yamin. Convenient and relatively easy to produce, they're a great way to preview possible changes before a single tooth is touched. However, some people may find it hard to picture their new smile from different angles and in different lights. If you'd like a better representation, it's possible to produce a 3-D model of the proposed work before it's done. This can let you truly visualize your new smile in a realistic way.
If you need even more evidence before deciding, there's still more that can be done. Your teeth can be built up to their new contours with composite resin, a tooth-colored restoration material that can change tooth shape and size with relative ease. A related procedure, the "provisional restoration," gives you a complete preview of the final work. When you're satisfied, the "temporary" materials are replaced with more permanent ones, like long-lasting porcelain veneers. Whichever method you choose, you'll be on your way to a better looking smile.
If you would like more information about a smile makeover, please contact us or schedule an appointment for a consultation. You can also learn more by reading the Dear Doctor magazine articles "Great Expectations — Perceptions in Smile Design" and "Smile Design Enhanced with Porcelain Veneers."
By Bill Johnson, DMD
December 01, 2014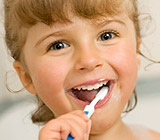 A habit can be defined as a recurrent, mostly unconscious pattern of behavior that is acquired through frequent repetition. However, there is much more to a habit than meets the eye. A major influence on children's positive behaviors and habits are those in their environment, namely parents, siblings and peers.
Luckily, proper oral hygiene is actually one of the easier habits to instill in children. Beginning when children are toddlers and continuing into their teenage years, you can influence them to institute lifetime oral healthcare habits.
Here are a few tips to get you started:
Toddlers:
Teach your Children How to Brush Properly. Starting at age two, when there are more teeth in your child's mouth, you should help your child establish a brushing routine. For toddlers, use a child's size soft toothbrush with water and a pea-sized amount of fluoride toothpaste. Children should be helped with brushing until at least age the age of six, at which point they will have developed enough dexterity.
Encourage your Children to Stop Sucking Thumbs and Pacifiers by Age Three. Most children drop this habit on their own between the ages of two and four. However, problems can occur when sucking habits are allowed to go on too long, including jaw development issues and buck teeth. If you are having problems helping your child to modify his or her sucking habits, we are happy to offer you some advice and creative strategies.
Set an Example of Healthy Eating Habits. A diet rich in sugar encourages the growth of acidogenic (acid-producing) bacteria, which cause tooth decay. Always choose water over sugary beverages, and encourage your children to do the same. When it comes to sweets, avoid sugary snacks between meals, and instead, snack on better options like fruits, vegetables and wheat crackers. Remember, if your children see you making these healthy decisions from an early age, they are likely to mimic your behaviors.
Pre-Teens and Teenagers:
Get your Children Professional Custom-Fitted Mouthguards. These devices not only protect your children's teeth, but also the jawbones, jaw joints and soft tissues of the lip, cheeks, gums and tongue. A mouthguard made specifically for your child using a model of his or her teeth offers greater protection than an over-the-counter model.
Warn your Teens about Oral Piercings. Tongue piercing and lip bolts create many risks for teeth and the tissues that surround them. Resulting tooth problems include chipping, sensitivity, and pain. Periodontal problems include gum recession, inflammation, infection, and bone loss. Make sure that your teen is aware of these risks.
If you would like more information about oral healthcare for your children, please contact us or schedule an appointment for a consultation. You can also learn more by reading the Dear Doctor magazine article "How to Help your Child Develop the Best Habits for Oral Health."