Posts for: October, 2014
By Bill Johnson, DMD
October 29, 2014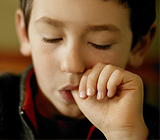 One of the most common parental concerns is the habit of many children, even late into childhood, to suck their thumbs or fingers. Many parents have asked us, "Could this affect their teeth?"
The answer, unfortunately, is yes — thumb sucking can contribute to a malocclusion (bad bite) that could eventually require orthodontic treatment. Before making any assumptions, however, we need to understand the bigger picture.
To begin with, infants have a different swallowing mechanism than adults and older children. When you as an adult swallow, you'll notice the tip of your tongue positions itself just above the back of the top front teeth. An infant, however, will thrust their tongue between their upper and lower jaw as they swallow (also known as an infantile swallowing pattern or primary tongue thrust). The infant normally begins changing to an adult swallowing pattern when their primary (baby) teeth begin to erupt.
However, if a child's swallowing transition is slower than normal and the tongue rests between the jaws for a longer duration, it can inhibit the full eruption of teeth, believed to be the main cause of an open bite (a gap between the upper and lower teeth when the jaws are shut). The thumb during sucking resting between the teeth can have the same effect.
Thumb sucking may not necessarily lead to a malocclusion — for example, an abnormally developing jawbone could be the culprit. If prolonged thumb sucking does become a concern, however, there are steps we can take to reduce the impact of the habit. We can install a thin metal "tongue crib" behind the upper and lower incisors that will not only discourage thumb sucking, but also help retrain the tongue not to rest between the upper and lower teeth. There are also exercise routines known as orofacial myofunctional therapy (OMT) that can retrain specific muscles in the mouth to encourage more normal chewing and swallowing patterns.
These steps may not prevent future orthodontic treatment, but they could reduce its extent. The key is regular dental checkups and consultation to ensure your child's teeth and bite are developing normally.
If you would like more information on the effects of chronic thumb sucking on the mouth, please contact us or schedule an appointment for a consultation. You can also learn more about this topic by reading the Dear Doctor magazine article "How Thumb Sucking Affects the Bite."
By Bill Johnson, DMD
October 14, 2014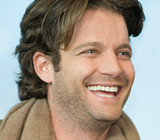 Prior to his first appearance on the Oprah Winfrey show, interior designer Nate Berkus knew immediately that he was not there to pick sofa colors and paint chips. Instead, he was there to lift people up through the way they live. And boy, did he do just that. Over the next eight years, Berkus completed 127 makeovers and became one of America's most beloved go-to guys for inspiration on the latest design trends.
During a recent interview with Dear Doctor magazine, Nate discussed his career as well as his oral healthcare. He credits his dazzling all-natural smile — no cosmetic dentistry here — to the treatments he received as a child from his dentist. "I'm grateful for having been given fluoride treatments and sealants as a child." He then added that, "healthy habits should start at a young age." Nate is still in the habit of brushing his teeth two or three times a day. As for flossing his teeth, he credits his dentist with the advice he still follows: "Floss the ones you want to keep."
Many parents and caregivers may not be aware of the important role fluoride treatments play in protecting children's teeth. Fluoride has the unique ability to strengthen tooth enamel, the hardest substance found in nature. Depending on where you live, you may have fluoridated tap water. You may also have fluoride in your toothpaste, depending on the brand you use. Both of these are beneficial, but sometimes we recommend additional fluoride treatments based on the specific needs of your children. Why? The concentrations of the topical fluorides we typically apply are much higher than what is found in toothpastes, and we apply them for a longer period of time. For example, we often apply them for four minutes per treatment session.
To learn more about fluoride treatments, contact us today to schedule an appointment so that we can conduct a thorough examination, discuss any questions you have as well as what treatment options will be best for you or your child. Or to learn more about fluoride treatments now, you can continue reading the Dear Doctor magazine article "Topical Fluoride." And to read the entire interview with Nate Berkus, please see the Dear Doctor magazine article "Nate Berkus."