Posts for: June, 2014
By Bill Johnson, DMD
June 19, 2014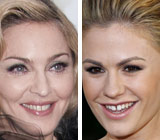 One's a singer who made her name playing New York clubs in the 1980's before catapulting to international pop stardom; the other's an actress from New Zealand who, in 1994, at the age of 11, became the second-youngest person ever to win an Academy Award. Both remain at the top of the A-list today. What other feature do Madonna and Anna Paquin have in common?
You guessed it — it's their teeth. Both have a small but noticeable gap between their two front teeth, known as a diastema. This condition is relatively common, and it's normally easy to treat — if that's something you'd like to do. But wait a moment… In certain African countries, this kind of smile is considered a sign of fertility; in France, they call it "dents du bonheur" (lucky teeth); some other cultures consider the gap a predictor of future wealth. So if you've already made this look work for you, there's no need to change it — even if you might need other cosmetic dental work.
The "perfectly imperfect" smile has become an increasingly popular option for people having veneers, cosmetic bonding, or even dental implants. Some trend-watchers have even noted a pushback against the ideal of a completely even, flawless, Hollywood-white smile. Does that create a problem at the dentist's office?
Absolutely not! We call the process of figuring out how your teeth should look "smile design" — and it's as much an art as a science. When we're just beginning to design your smile, we look at a number of features — including the size, shape, color and alignment of your teeth, the position of your lips, the amount of gums exposed, and the relationship between your smile and your other facial features. We're also listening carefully to you: what you like and don't like about your smile, how you think it could be improved… and what should stay just the way it is.
Of course, before doing any cosmetic work, we will always perform a complete dental exam to detect any underlying condition and determine what treatments are best. Then, we will work with you to help you get the smile you've always wanted. Not sure exactly how it will look when it's all done? Ask us for a preview — from computer-generated pictures to actual 3-D models, we can show you how your new smile will enhance your appearance.
So if your smile needs a little help to look its best — but you still want it to be uniquely yours — maybe now is the time to come in and see us. If you would like more information on smile design, please contact us or schedule an appointment for a consultation. You can learn more in the Dear Doctor articles "The Impact of a Smile Makeover" and "Beautiful Smiles by Design."
By Bill Johnson, DMD
June 04, 2014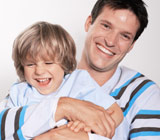 Your children's health is a major concern for you, even before they're born. That concern should include their dental health and, yes, even before they're born — a baby's primary teeth are already forming just a few weeks into pregnancy.
Here, then, are some important tips for keeping your child's dental health, before and after birth, on track.
Eat healthy during pregnancy. Your baby's teeth actually begin to mineralize around the third or fourth month of your pregnancy. You can aid this process by eating a diet rich in calcium, phosphorous and protein.
Fight tooth decay by limiting sugar. Sugar is a major contributor to tooth decay, especially in primary teeth. To reduce this risk, limit sugary snacks as much as possible, and avoid bottles filled with sugar-filled liquids (including breast milk) during your baby's sleeping hours.
Begin good hygiene early. When teeth first appear in the mouth you should begin to wipe around the teeth and gums with a water-soaked gauze pad right after feeding. As teeth develop, begin to gently brush them with a soft-bristled brush with just a smear of fluoridated toothpaste. Teach your child beginning around age 2 to brush for themselves with a pea-sized amount of paste on the brush. By age 6, they should be able to brush on their own and ready to learn flossing.
Schedule regular dental visits and cleanings. Dental checkups should begin around their first birthday and continue semi-annually. Your dentist is a key resource in monitoring tooth development, preventing disease and developing future treatment strategies.
Make your home "tooth-friendly." Your home environment can be a danger to your child's mouth. Check for hard or sharp surfaces your child could fall on and eliminate the danger — it's estimated half of dental injuries to children under seven occur near home furniture. Check your drinking water as well — does your system add fluoride, a proven cavity fighter, or do you need to find other sources?
Taking a few precautions and establishing good life-long dental habits will help ensure your child's teeth and gums remain healthy right into adulthood.
If you would like more information on oral health for children, please contact us or schedule an appointment for a consultation. You can also learn more about this topic by reading the Dear Doctor magazine article "Top 10 Oral Health Tips for Children."